CARTIER
Duck brooch
Reference : 8296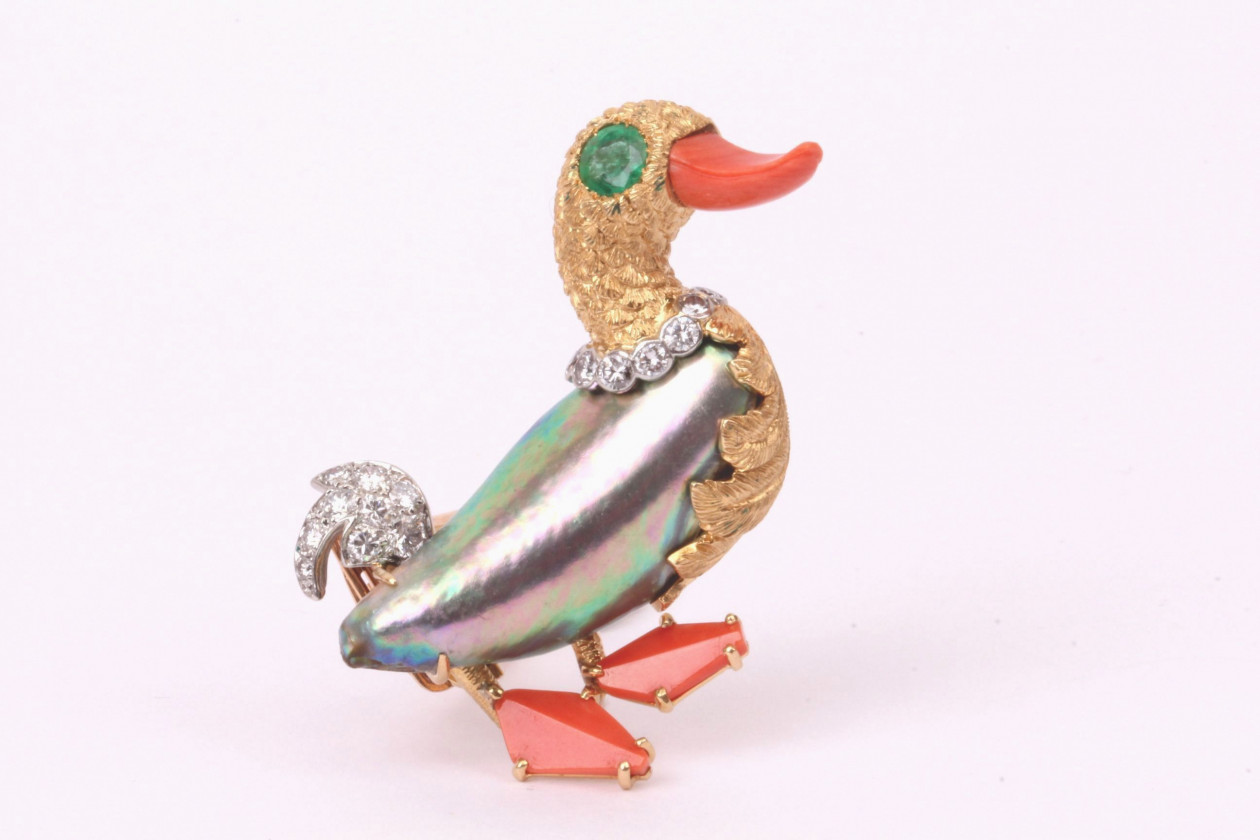 This jewel was part of the auction sale of the estate of the singer JULIETTE GRECO (1927-2020) on November 18, 2021, at the Hotel Drouot in PARIS. This sale was managed by the auctioneers CRAIT & MULLER 18 rue de Provence 75009 PARIS (FRANCE)
CARTIER
Duck brooch
Reference : 8296

Vente aux enchères :
adjugée 22.000 € le 18 novembre 2021 à l'Hôtel Drouot à PARIS par M° CRAIT & MULLER 18 rue de Provence 75009 PARIS 01.45.81.52.36.
Clip signed "CARTIER PARIS" and double numbered. The body consists of a large, fine baroque Abalone pearl three centimeters long, with gray, green and purple iridescence. Legs and  beak are made of coral. The eye is a faceted round emerald. The collar and tail are trimmed with brilliant cut diamonds. Toggle safety. Presence of three "eagle's head" marks, one "dog's head" mark and two jeweler's marks for the Société Anonyme CARTIER.
Category :

Brooches

Metal : yellow gold 18K (750‰), platinum (950‰)
Material(s) : perle, diamants, corail, émeraude.
Dimensions : height :4,2 cm - width : 3,7 cm - thickness : 1,3 cm
Gross weight : 16,58 g
Condition : very good condition
Ask a question about this jewel
This jewel was part of the auction sale of the estate of the singer JULIETTE GRECO (1927-2020) on November 18, 2021, at the Hotel Drouot in PARIS. This sale was managed by the auctioneers CRAIT & MULLER 18 rue de Provence 75009 PARIS (FRANCE)
Related collector's jewelry